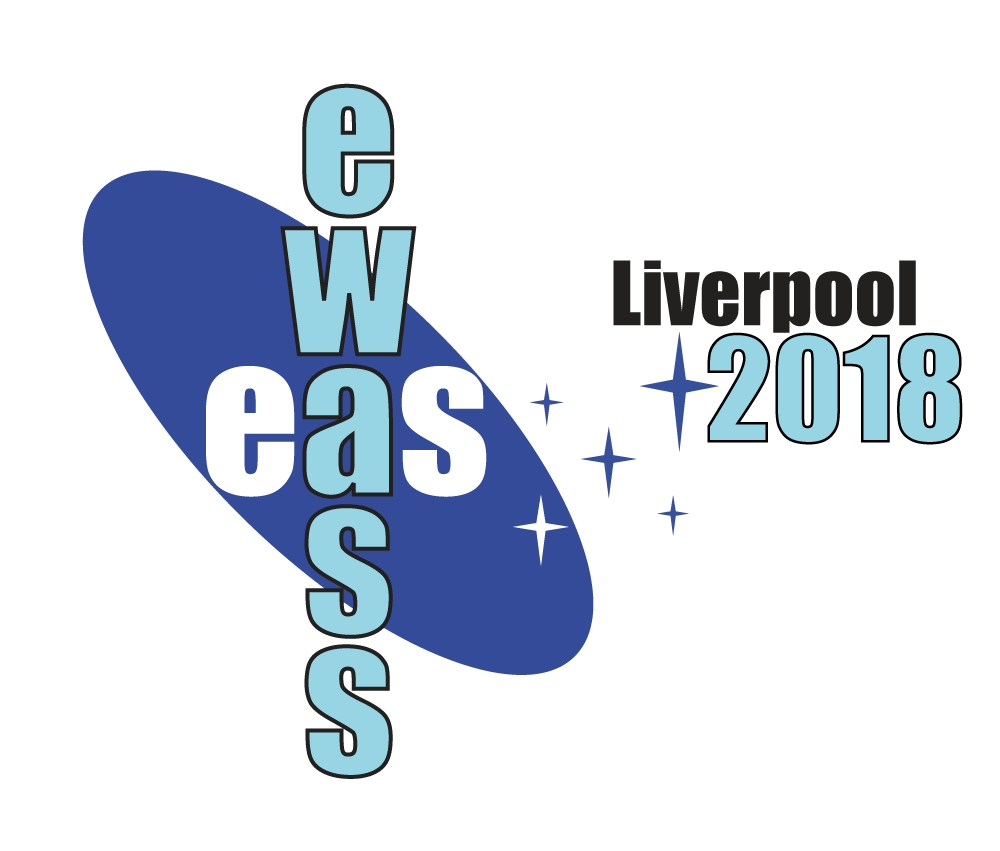 Welcome to EWASS 2018 !
European Week of Astronomy and Space Science
3 – 6 April 2018
Arena & Convention Centre (ACC),
Liverpool, United Kingdom
Joint annual meeting of the European Astronomical Society (EAS) and the National Astronomy Meeting (NAM) of the Royal Astronomical Society (RAS).
Important dates:


News
2018-Mar-13: Added Lunch session 11 and updated programme.
2018-Mar-9: Added Poster prizes web page.
2018-Mar-6: Link to RAS carers grant provided in the child care web page (deadline March 19). Venue for the football tournament provided. Added special Equity and Diversity plenary talk.
2018-Mar-2: Child care web page updated with details and registration form. Updated participant list.
2018-Feb-28: Excursions are now available. Notice the deadline of March 18 to register to them.
2018-Feb-22: Inclusion of the names of the EAS Prize awardees. Addition of participant list (already 1100 confirmed). Addition of the interactive programme.
2018-Feb-11: Social events page is now available.
2018-Feb-8: Update of program (room-level program, LS03 day shift, football tournament, public lecture). The public lecture page is now available. Note that the deadline for early bird registration has now passed, but you can still register for EWASS 2018 for the regular fee. More than 1,000 participants have already registered!
Ethics and Anti-harassment statement
The EAS considers its annual EWASS meetings to be a privileged occasion for free and frank interchange of scientific ideas, as well as for the nurturing and creation of professional and social contacts. Any abuse of power or inappropriate behaviour has no place at the EWASS.
On 23 January 2018, EAS Council has adopted the EAS Ethics Statement and Guidelines for Good Practice. These will apply during EWASS and all participants are urged to read the document and follow its recommendations.
The RAS kindly requests that all of its meeting attendees, including those at EWASS 2018, adhere to the Code of Conduct for RAS meetings.