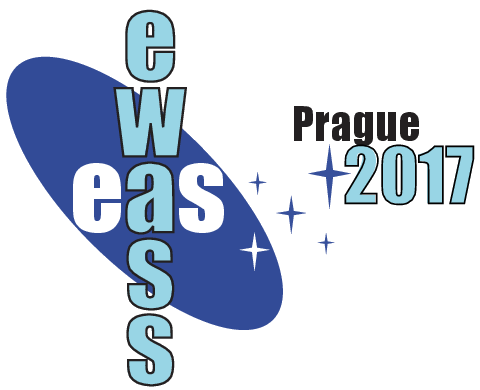 Welcome to EWASS 2017 !
European Week of Astronomy and Space Science
26 – 30 June 2017
Faculty of Law, Charles University,
Prague, Czech Republic
The annual meeting of the European Astronomical Society (EAS).


News
2017-Sep-29: Some of the presentations are now available on-line.
2017-Jul-28: Thank you for attending the EWASS 2017 conference in Prague and contributing to its success! See you in Liverpool next year.
2017-Jun-20: Updated list of participants. Please refer to the Interactive Programme, Facebook and Twitter for latest news and updates. We wish you all a safe travel and an excellent EWASS conference!
2017-Jun-09: Added general information to participants, as well as information to speakers and poster presenters.
2017-Jun-02: You are now more than 1100 participants from all over the world!
2017-May-26: A new Interactive Programme allows you now to access all session programmes and abstracts!
Anti-harassment statement
The EAS considers its annual EWASS meetings to be a privileged occasion for free and frank interchange of scientific ideas, as well as for the nurturing and creation of professional and social contacts. Any abuse of power or inappropriate behaviour has no place at the EWASS.
Next EWASS
EWASS 2018 in Liverpool, United Kingdom from 3 to 6 April 2018