Social Events
Social Events
Welcome Reception
The Welcome Reception provides an excellent opportunity to network, meet old friends and colleagues, as well as meet new people. It will be held at the ICE Kraków Congress Centre, one of the most attractively located and designed venues in Europe. Since its opening in 2014, has hosted important cultural and public events including concerts, plays, exhibits, congresses, and conference. It has been recognized as one of the most prestigious and award-winning convention centres in Europe.
Date: Monday, 10 July 2023
Time: From 18:30 to 20:30
Place: ICE Kraków Congress Centre, Marii Konopnickiej 17, 30-302 Kraków
Ticket: Free for registered participants (15 € for accompanying person).
Student Event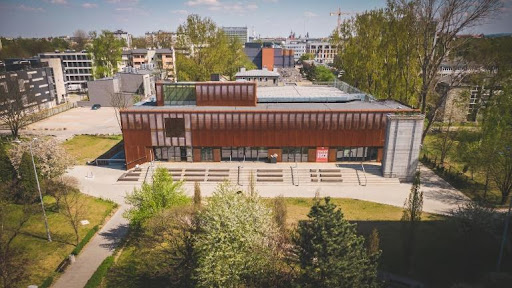 This event, free of charge, is for students attending EAS in order to allow them to meet and exchange ideas. It will take place at Klub Studio, the flagship spot on the party map of each Krakow student. One of the largest music clubs in Poland, it is situated in the centre of the AGH student campus.
Date: Tuesday, 11 July 2023
Time: From 20:00 to 00:00
Place: Witolda Budryka 4, 30-072 Kraków
Ticket: Free for registered students.
Pre-registration is required.
Conference Dinner
The Old tram Depot is the selected venue for this year conference dinner. The depot was established in 1913 with the launch of a wide-gauge tram line in Krakow. In the early 1960s, when trams disappeared from the depot and the track was removed, bus workshops and warehouses were set up in its buildings. On 2012 the facility was renovated and now it operates as a gastronomic complex.
Date: Thursday, 13 July 2023
Time: From 19:30 to 23:00
Place: Stara Zajezdnia Kraków -Świętego Wawrzyńca 12, 31-060 Kraków
Ticket: 75€ for participants (90€ for accompanying person).