Special Session SS34
28 June 2021
Early Career Astronomers & their supporters
News: Are you a senior (> 4 years after PhD) astrophysicist and would you like to chat as a mentor to early career astronomers during the EAS lunch break on the 28th of June? Then please sign up via this link!
Aims and scope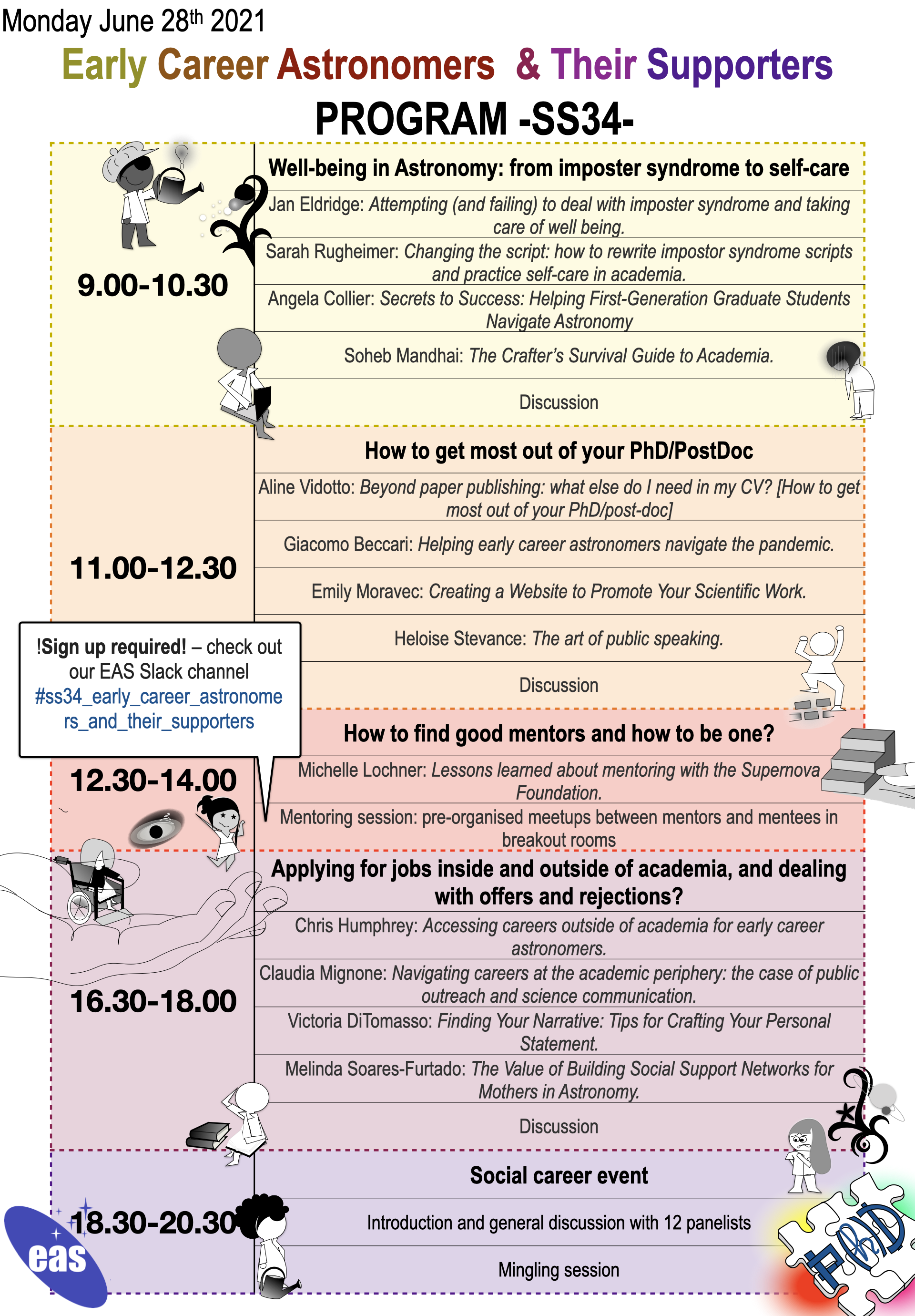 Diversity, inclusion, equity and support are crucial ingredients for the emergence of creative ideas and innovation, the building blocks of research. It is particularly important for Early Career Astronomers (ECAs) to connect and learn navigating the academic system in permanent evolution (e.g., responding to pandemic, climate change and diversity crises). Securing the next job, building a mentoring network, finding support at work while ultimately developing a sustainable behavior is important, yet challenging, particularly for underrepresented minorities in astronomy. Such issues must be addressed simultaneously internationally and at the level of individual institutions. This Early Career Astronomy session at EAS 2021 aims to bring together a generation of scientists to take the practical next steps addressing career challenges.

We invite astronomers from all career stages to participate in our session, to be involved as mentors and mentees, advisors and to share experiences and ideas throughout the sessions for how to best support early career astronomers. We would also love to hear from astronomers from traditionally marginalized backgrounds, that are part of underrepresented groups in astronomy, and/or from first generation students / LGBTQ+ / BIPOC / from low social-economic backgrounds.
Programme

9.00-10.30
Jan Eldridge: Attempting (and failing) to deal with imposter syndrome and taking care of well being.
Sarah Rugheimer: Changing the script: how to rewrite impostor syndrome scripts and practice self-care in academia.
Angela Collier: Secrets to Success: Helping First-Generation Graduate Students Navigate Astronomy.
Soheb Mandhai: The Crafter?s Survival Guide to Academia.
Discussion
11.00-12.30
Aline Vidotto: Beyond paper publishing: what else do I need in my CV? [How to get most out of your PhD/post-doc]
Giacomo Beccari: Helping early career astronomers navigate the pandemic.
Emily Moravec: Creating a Website to Promote Your Scientific Work.
Heloise Stevance: The art of public speaking.
Discussion
12.30-14.00
Michelle Lochner: Lessons learned about mentoring with the Supernova Foundation.
Mentoring session: pre-organised meetups between mentors and mentees in breakout rooms
16.30-18.00
Chris Humphrey: Accessing careers outside of academia for early career astronomers.
Claudia Mignone: Navigating careers at the academic periphery: the case of public outreach and science communication.
Victoria DiTomasso: Finding Your Narrative: Tips for Crafting Your Personal Statement.
Melinda Soares-Furtado: The Value of Building Social Support Networks for Mothers in Astronomy.
Discussion
18.30-20.30
Social event in Gathertown: career evening with 12 panelists who worked in Astro and developed a diverse range of careers.
Invited speakers

Giacomo Beccari (ESO)
Angela Collier (University of Colorado Boulder/JILA)
Victoria DiTomasso (Center For Astrophysics | Harvard & Smithsonian)
Jan Eldridge (University of Auckland)
Chris Humphrey (Jobs on Toast)
Michelle Lochner (University of the Western Cape)
Soheb Mandhai (University of Leicester)
Claudia Mignone (INAF, Istituto Nazionale di Astrofisica)
Emily Moravec (Astronomical Institute of the Czech Academy of Sciences)
Sarah Rugheimer (University of Oxford)
Melinda Soares-Furtado (UW-Madison)
Heloise Stevance (University Of Auckland)
Aline Vidotto (Trinity College Dublin)
Scientific organisers

ECA Chairs (in reversed alphabetical order):
Serena Vinciguerra, 2nd postdoc, Amsterdam, NL, serenavinciguerra89[at]gmail.com 
Anjali Piette, final year PhD, Cambridge UK, ap763[at]cam.ac.uk
Valeriya Korol, first PostDoc,  Birmingham, UK, korol[at]star.bham.sr.ac.uk
Anniek Gloudemans, 2nd year PhD, Leiden, NL, gloudemans[at]strw.leidenuniv.nl
Neige Frankel, final year PhD, MPIA, Germany, frankel[at]mpia-hd.mpg.de
Jakob van den Eijnden, first year postdoc, Oxford, UK, a.j.vandeneijnden[at]uva.nl
Annelotte Derkink, 2nd year PhD, Amsterdam, NL, a.r.derkink[at]uva.nl
Floor Broekgaarden, 2nd year PhD, Cambridge, USA, floor.broekgaarden[at]cfa.harvard.edu
Senior advising board (in reversed alphabetical order): 
David Weir, faculty Helsinki, Finland, david.weir[at]helsinki.fi 
Silvia Toonen, faculty Birmingham, UK / Amsterdam, NL, s.toonen[at]bham.ac.uk
Dorottya Szécsi,  faculty,  Poland, dorottya.szecsi[at]gmail.com
Enrico Ramirez-Ruiz, faculty, UCSC, USA / Copenhagen, Denmark, enrico[at]ucolick.org
Samaya Nissanke, faculty Amsterdam, GRAPPA, NL, samaya.nissanke[at]uva.nl, 
Ewine van Dishoeck, faculty, Leiden, NL, ewine[at]strw.leidenuniv.nl 
Contact

floor.broekgaarden @ cfa.harvard.edu
Updated on Wed Jun 16 12:57:17 CEST 2021
---